In the News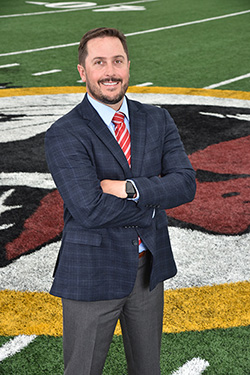 Brandon Bryant, M.D., is used to treating patients at the top of their game. The board-certified specialist in orthopaedic surgery and sports medicine has cared for pro athletes and elite members of the military. But his approach to medicine is the same whether he's treating Washington Redskins players, Navy SEALs or average Joes.
Still, there can be an extra layer of stress when treating pro athletes whose teammates and fans are counting on them to be on the field. "There's a lot riding on these players, and it's a different level of pressure to make sure we get it right," he says.
Fortunately, Bryant and his fellow Redskins team doctors have a deep pool of experience to draw from when making treatment decisions. "Being a team physician is really challenging. Everyone wants an answer yesterday, and it keeps you on your toes," he says. "But it's made me a stronger physician and surgeon."
Part of the Team
Bryant grew up in Chargers territory and attended medical school at the University of California, Los Angeles. He spent over a decade as a surgeon in the U.S. Navy, during which time he completed a sports medicine fellowship at the University of Pittsburgh. During his fellowship training, he worked with the Pittsburgh Steelers, alongside his Inova Sports Medicine colleague and Redskins head team physician Robin West, MD. "That opened my eyes ­– and doors – to working with the NFL," he says.
After leaving Pittsburgh, Bryant headed up the sports medicine program at the Naval Medical Center Portsmouth and began working with the Navy Seals and, later, the U.S. Naval Special Warfare Development Group in Virginia Beach, VA. Caring for military officers at the highest levels of performance was not unlike treating elite athletes, he says. When he joined the Redskins team last season, it made for a relatively easy transition.
Still, he knew he had to earn the team's trust. "There should be an element of skepticism, but I did my best to show them that my only motive was to provide the best care," he says.
As he got to know the team, he felt welcomed with open arms. "You start to feel like part of the family," he says. "That camaraderie makes it that much more special, and a lot more fun."
Making People Better
Bryant treats players both in the training room and at his office in Ashburn, VA, and sometimes travels to away games as well. One of Bryant's favorite experiences last year was traveling with the Redskins to London's Wembley Stadium for the NFL's International Series.
The London game was exciting, but also a busy one for the medical team, with several injured players to tend to. Bryant and his colleagues would much prefer a healthy lineup. "As far as the sports medicine team is concerned, our best games are when we're bored."
And although Bryant is trained as an orthopedic surgeon, he spends a fair amount of time finding ways to help his patients avoid surgery. He's a proponent of biologic treatments, such as platelet-rich plasma and regenerative stem cells, which can promote healing and shorten recovery time. "That changes the nature of my job, but I'm not doing this so I can operate. We do it to make people better," he says.
Indeed, his favorite part of the job is watching the whole process unfold, from diagnosis through treatment to recovery. "Ultimately, we're there to make sure there are no catastrophic injuries, and if something does happen, we help them get back to playing the game they love," he says. "That's why we do it."
Inova Sports Medicine provides a personalized team approach writing a comprehensive game plan for each individual patient in order to get them back to play healthier, stronger, safely and as quick as possible. Brandon Bryant sees patients in Fairfax, Ashburn and Gainesville, VA. Call 1-844-453-1139 for more information or to schedule an appointment.
For more information click here.